Remembering Priya Srikumar
The PLSE lab was blessed to have Priya Srikumar as a visiting student from Cornell in the summer of 2023. Later that summer, on their cross-country trip back to Ithaca, Priya passed away in a car accident in Nevada. Despite their very short time in Seattle, Priya had a big impact on the lab. Below, lab members recall some of their favorite memories with Priya.
Rachit Nigam also has a beautiful post in memoriam here.
(All photos can be found here.)
Gus Smith
Though they visited the lab for only a few months, I have many memories of Priya.
I first met Priya over email—they were in Vancouver for the ASPLOS conference in spring 2023, and emailed me out of the blue to ask whether they could come hang out at the PLSE lab on their way back through Seattle. Even from that first interaction, they were incredibly warm and outgoing. They visited the lab, and that was what convinced them to come for the summer.
A memorable moment of that spring trip: while they were visiting, Priya ran with our running club on our Saturday morning run. They had packed running shoes, but no running clothes—so they ran in a dress! They were so enthusiastic about being with us that they let no obstacle get in the way.
Another memory I have of Priya: I mentioned to them that I go to a monthly poetry meetup at a bar near the school, and they asked if they could come. Though the bar was only ten minutes from the office, on our walk we managed to have a deep conversation about friendships, introversion and extroversion, and how we keep ourselves going. Priya was so easy to talk to. They were honest, vulnerable, and had no pretense about them. At the poetry meetup, they read the poem "Did I Miss Anything?" by Tom Wayman. In many ways, the poem captures my memory of Priya: lighthearted, playful, and suddenly deep and full of heart.
My last messages with Priya were from the day they left Seattle. They wanted to say goodbye in person, but I was out of town. The last message they sent me was, "aww no worries!! im leaving tomorrow and i wanted to say bye, but we'll see each other again!!" Someday, somewhere, maybe we will.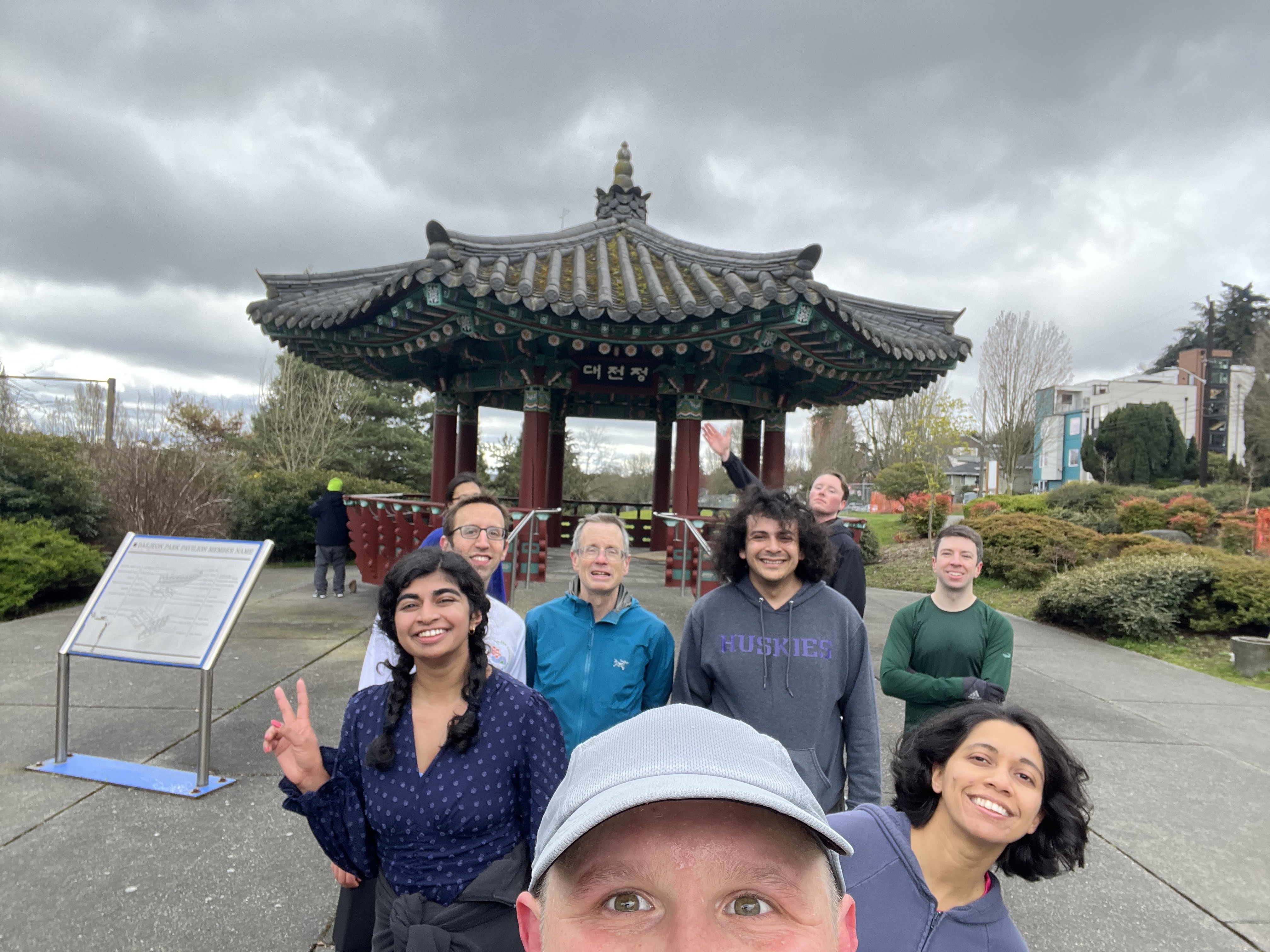 Ben Kushigian
I met Priya this summer when they were visiting the PLSE lab, and I was immediately struck by their openness and kindness. Priya had a smile that would lift you from a sour mood, and I was always happy to see them when I'd visit the lab. The world was robbed of a brilliant, kind, and caring soul. I can't believe that they are gone. This isn't right, and this isn't fair. My sincerest condolences to Priya's family, friends, and colleagues.
The world is darker without you Priya, but brighter for having had you. Rest in peace my friend.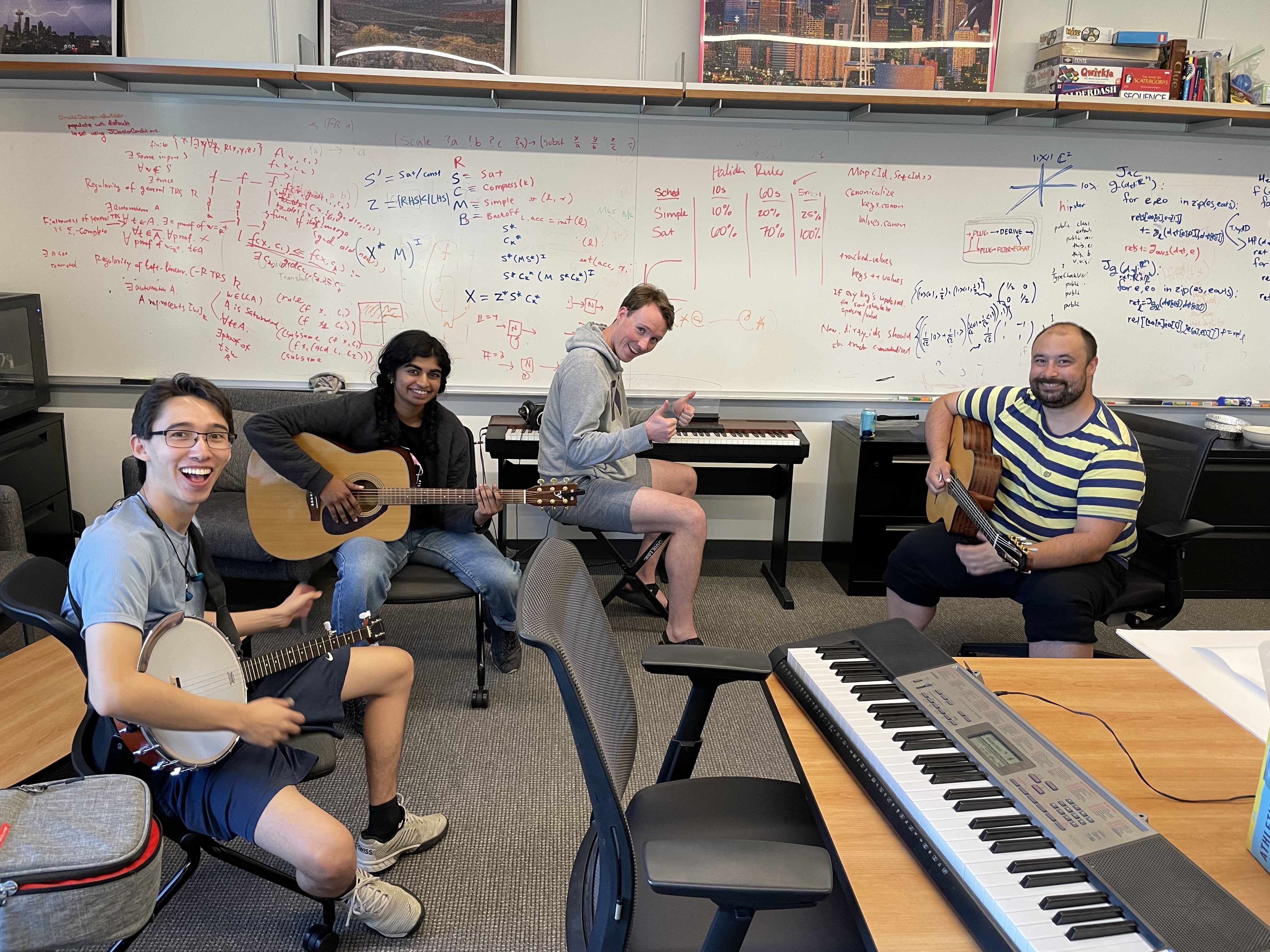 Vishal Canumalla
I first met Priya sometime at the beginning of 2023. Priya was entirely enthusiastic, open and kind every time I was with them, regardless of the day. They had the uncanny ability to make you feel like they were a lifelong friend, even if you had known them for just a few hours. They were quite an inspiration for me personally: many of the skills they possessed, I was trying to learn. Most remarkable to me, was their fearlessness. They were able to approach even the most intimidating person, strike up a conversation, and walk away leaving a lasting impression. Their example of fearless curiosity remains one that I strive to emulate in my life.
My last time speaking with Priya was in June, where we and other friends laughed and played games together through the night. We spoke about everything, from aspirations to movies, from insecurities to embarrassing stories. It is an immensely happy memory with a friend that I will remember vividly.
I was very lucky to have known Priya, and I will treasure the small amount of time that we had as friends together. I am a better researcher, friend, and person having known them.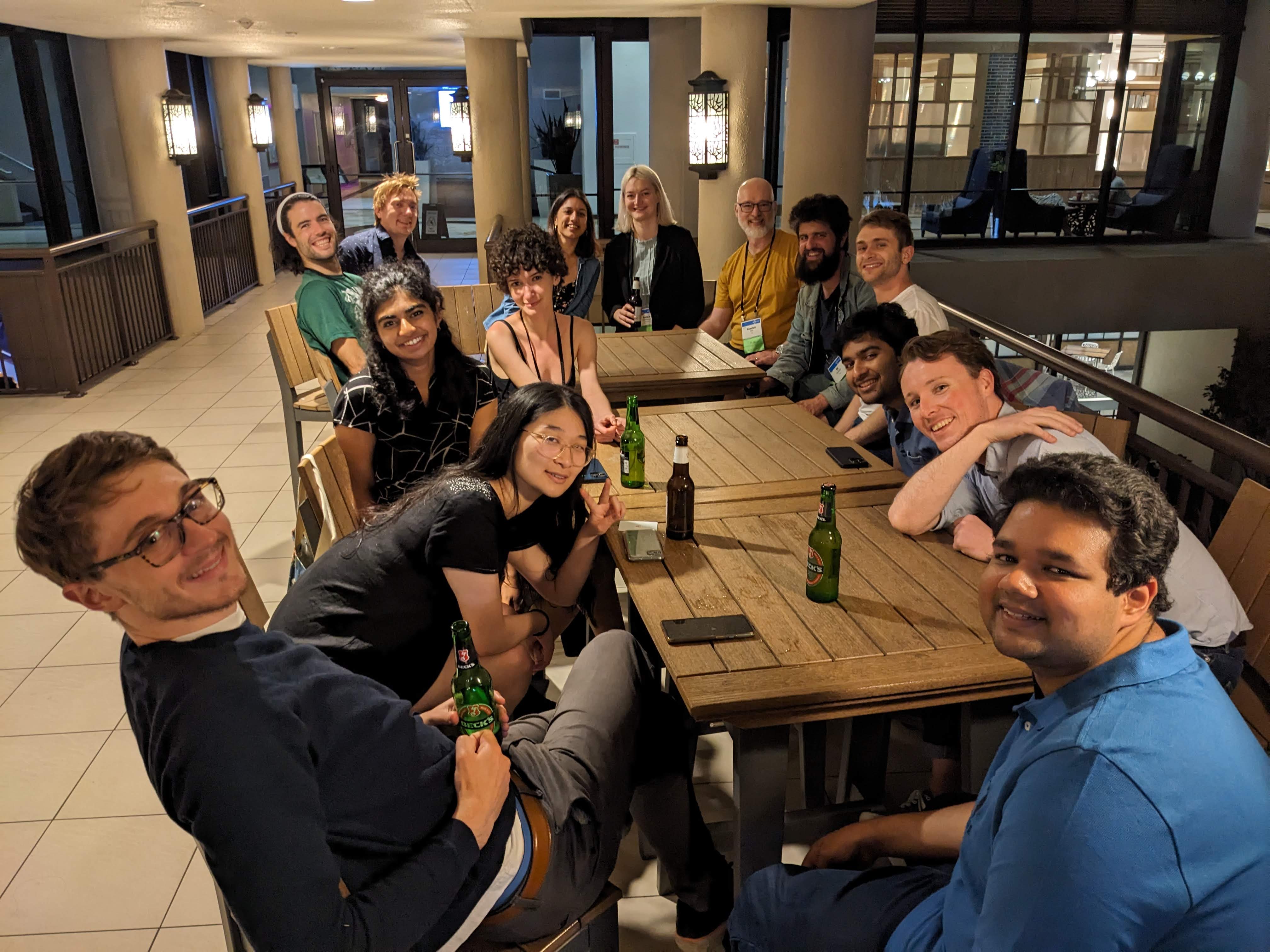 Anjali Pal
Priya and I shared a hotel room the last night of PLDI 2023. We both got back to the room kind of late and we were both exhausted from the week's activities. I think we both thought we'd go to sleep pretty much right away, but we ended up staying up for another couple of hours talking. Priya had been around the PLSE lab for a while, so we knew each other, but we hadn't spent much time together one on one before that night. Our conversation was a winding path through a bunch of topics, both personal and academic/professional. We talked about how to do good research and lead collaborative teams; how to engage new researchers and build inclusive environments; how to network and maintain strong relationships. We talked about queerness, tattoos, self-expression, and how we want to be seen by the world. Ultimately, we were talking about what it means to be a good person, a good friend, a good teacher. We were talking about what kinds of lives we want to lead and how to build them. Several times during the night, one of us would say, "We should really go to bed in a minute, just one more thing…" and then we'd be deep in conversation again. I don't really know how to put it into words, because it was kind of just that one night, but I think Priya just had a way of making you feel like you'd known each other forever. I think Priya and I were both excited to continue seeing and spending time with each other over the coming years. I'm glad I knew them, and I will miss them.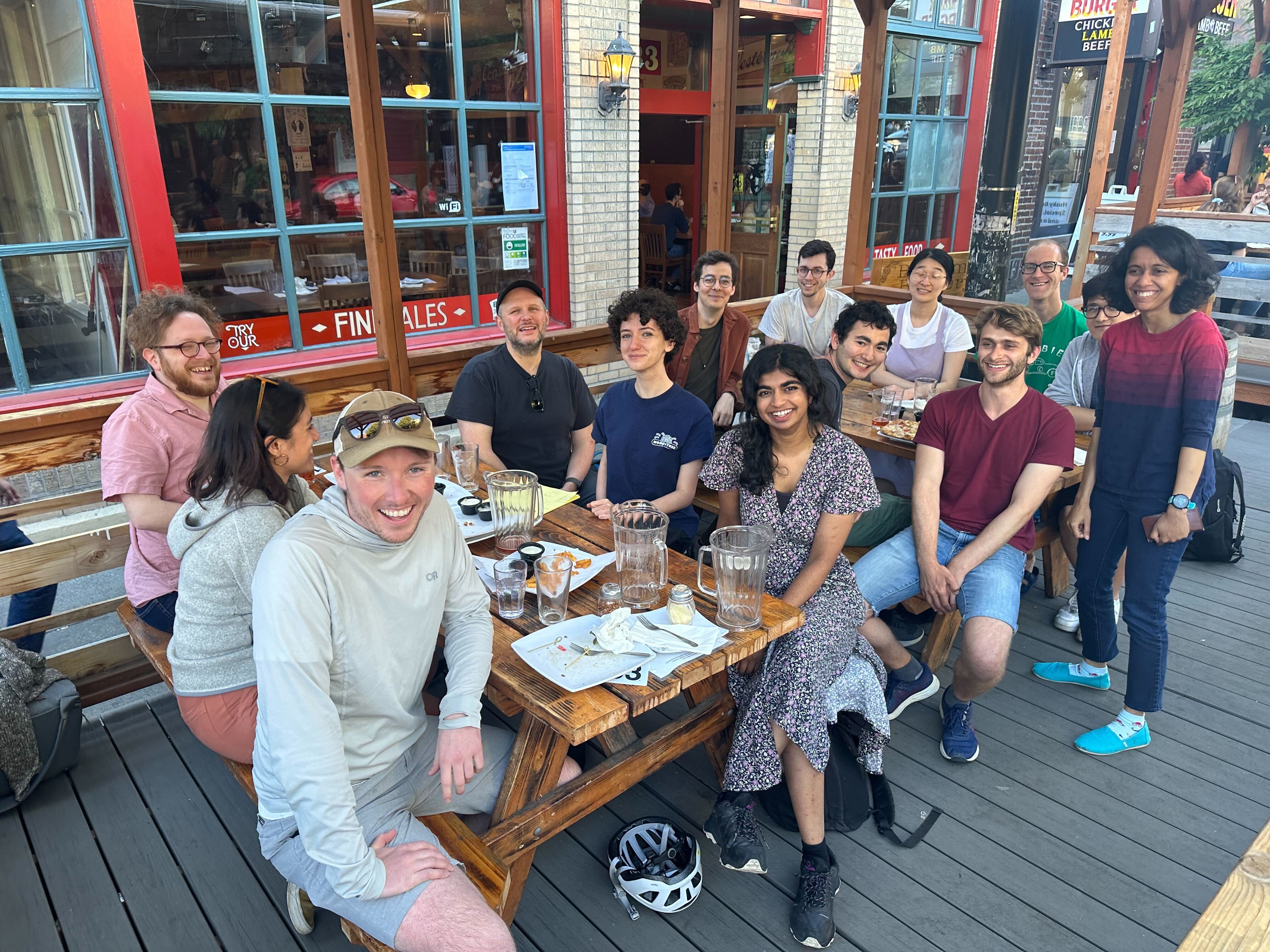 Oliver Flatt
Like many others in the PLSE lab, I knew Priya for a short time but grew close to them very quickly. Priya had a way of making everyone they met feel special, like they wanted to be their best friend. I think because it was true. All my conversations with Priya were warm and fun, I was always happy to see them.
When Priya was leaving the lab on their last day, they gave me a very kind note. I was surprised and happy to receive it. Priya said they were a little embarrassed to give it to me- they were honest about their feelings in the note and in-person. The note is uplifting and made me want to continue our friendship more than ever. I've decided to include the note below, because it meant so much to me.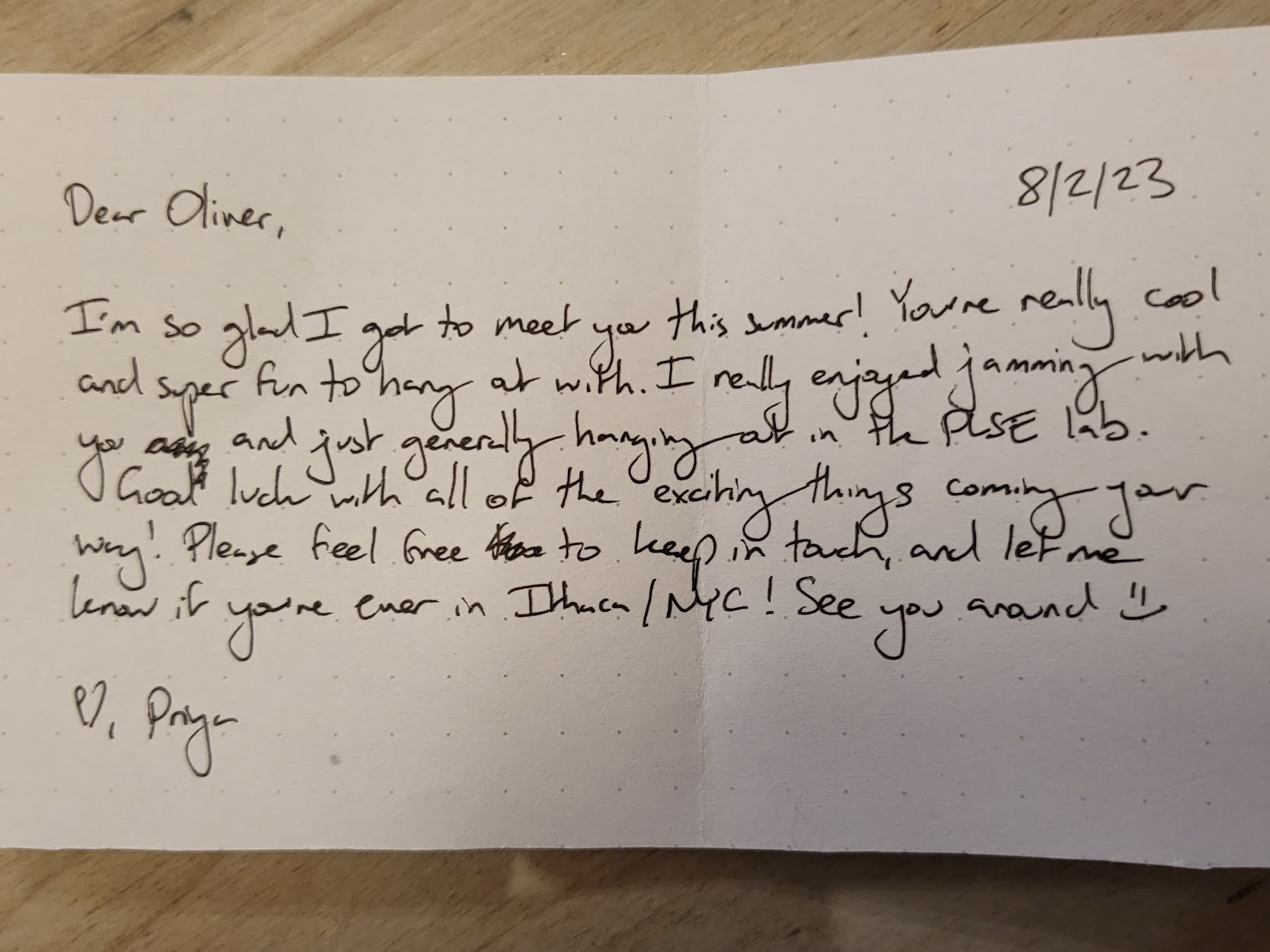 Chandra Nandi
I met Priya for the first time at PLDI 2020 when I had signed up for a virtual mentor as part of PLMW and Priya was my assigned mentee. They were still an undergraduate at Cornell and I recall their enthusiasm about grad school and academia. Next time we met was in the summer of 2023 when they visited Seattle and hung out in the PLSE lab. I recall Priya being incredibly enthusiastic about going dancing. They were so excited at the idea and were already making plans on where to go and when. I just found them to be super cool to be around. I also remember going running with Priya! We talked about their love for biking and how to become a fast runner. We talked about Sri Lanka while having pho after the run. One of the funniest conversations with Priya I recall being part of was when they asked Zach if he was a wrestler. Zach was a bit surprised at the question because it came out of nowhere. Priya explained that they could immediately tell because of how Zach walked, simply because they themselves were an elite wrestler! Although I personally know nothing about wrestling, I just recall the three of us laughing a lot and Priya geeking out about wrestling. Even though that was apparently one of Priya's longest runs, they absolutely crushed and impressed everyone with their strength and determination. I will always remember them and I am glad we met. May Priya's soul rest in peace.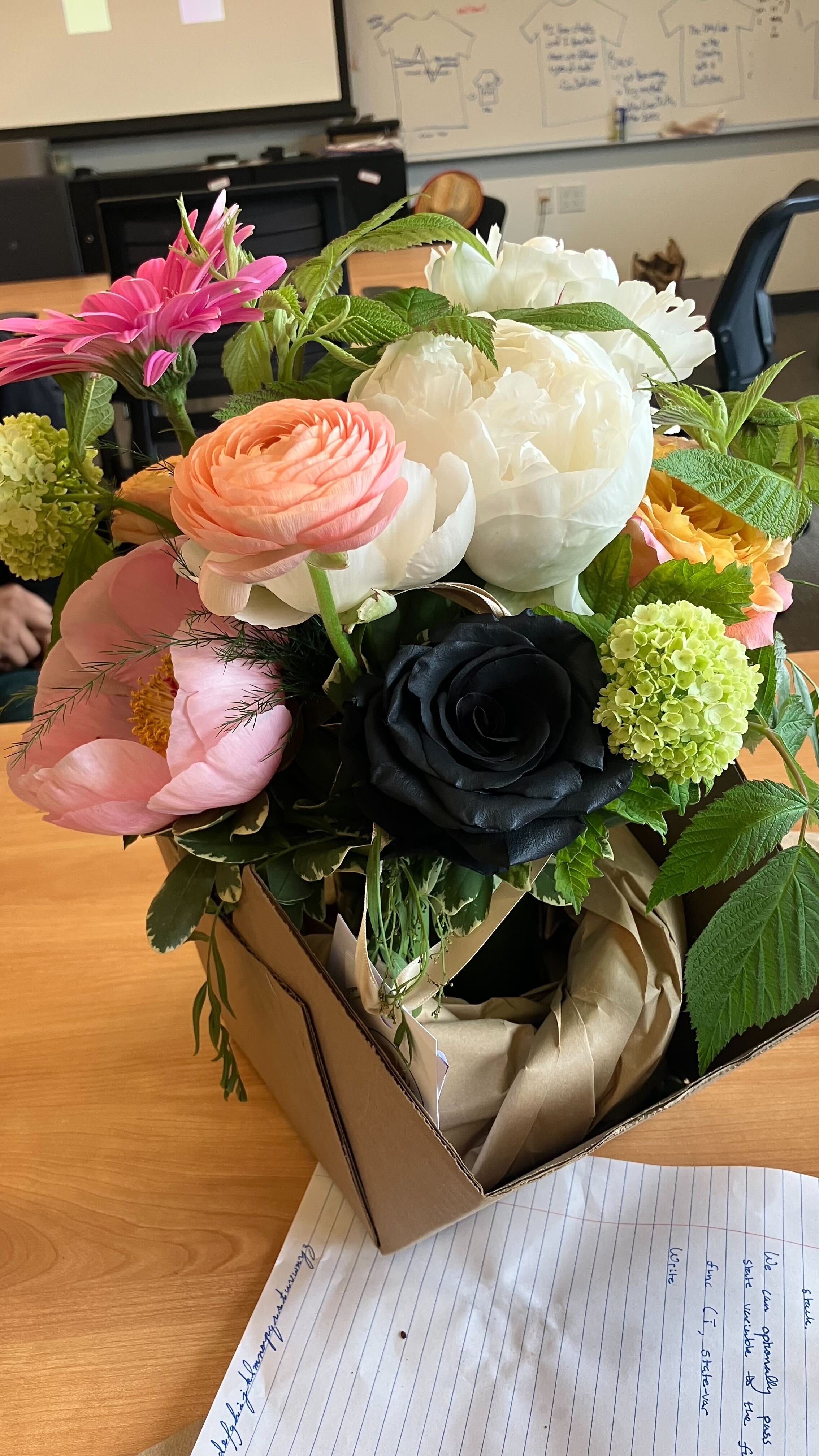 Flowers, which Priya's partner frequently sent them while they were apart.
John Leo
I met Priya at a UW PLSE Race Condition Running group run on Saturday, April 1. Priya was among a small group that joined the run in the second half. Priya had come from a conference in Vancouver, and it was only their first or second run ever; they didn't have running clothes and did the run wearing a dress! I was fortunate to be able to talk with Priya at length, and was immediately struck by what an exceptional person they were. Priya was extremely friendly, and, although modest, was clearly talented in numerous areas. They played enough instruments at a high level to be a one-person band. Despite the hilly route and newness to running, Priya did a terrific job on the run itself as well and was excited to run more. I saw Priya a couple more times in the lab during the summer, but only talked with them briefly. I was already looking forward to spending more time interacting on their next visit.
It was clear that Priya had a very bright future, and not only would excel in both research and teaching, but be, as is evident from the reminiscences of others, someone who would profoundly affect many people in a personal way. It is extremely tragic that Priya was taken from us far too early, but I am grateful to have had the opportunity to be one of those people. I will cherish the memories of our brief time together.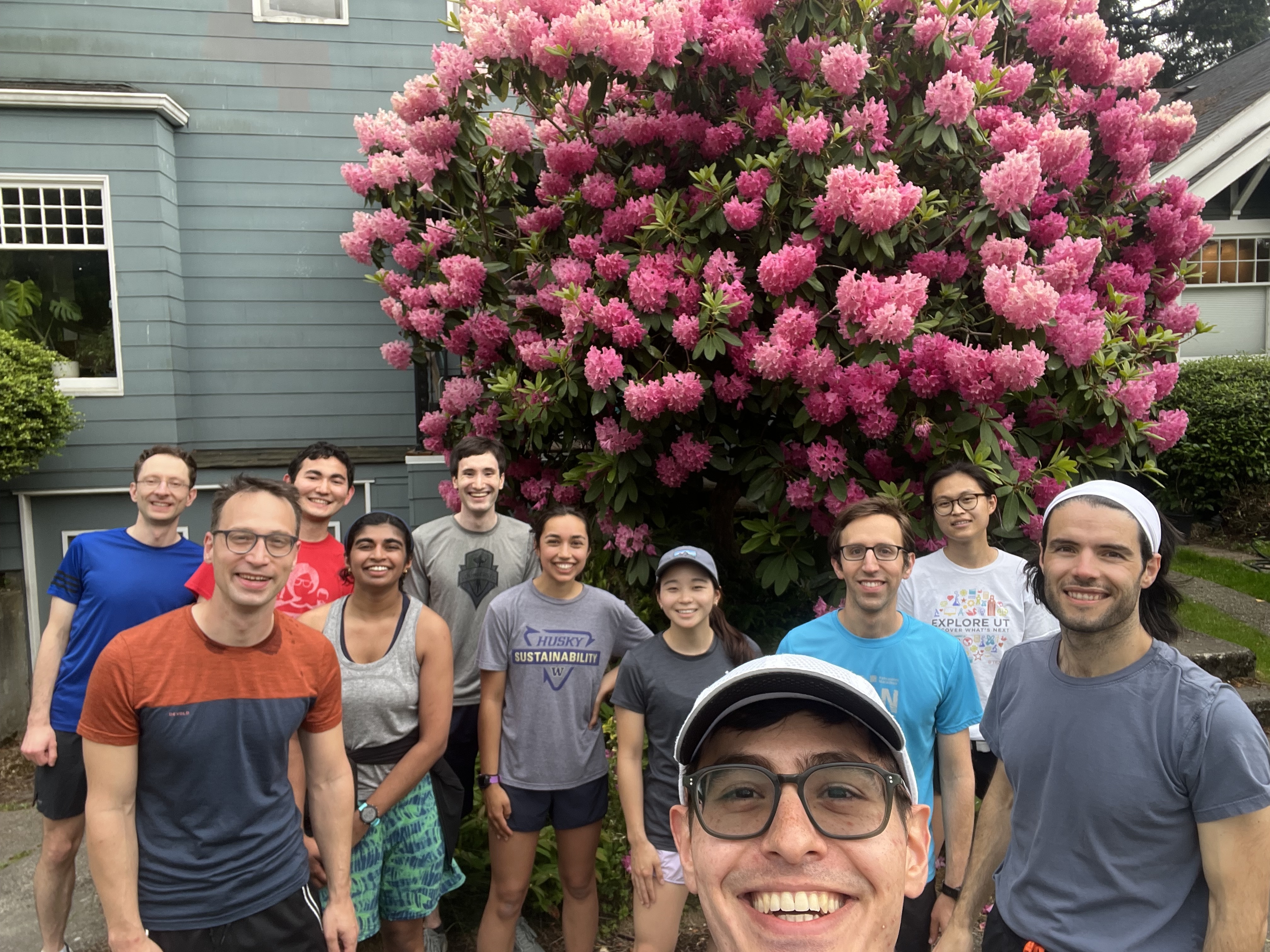 Audrey Seo
I met Priya at the July PLSE hangout, and instantly, we both agreed that we should have been hanging out much sooner. We had a lot in common, from having to learn our heritage languages (Tamil for Priya, and Korean for me) in university, to switching advisors and feeling like we were starting over, frustrations from working with theorem proving in Coq, and having fiber arts hobbies: knitting, embroidery, crochet, etc. We both agreed that we'd have to make use of the short time remaining in the summer, since Priya was going to return to the East Coast in August, and was going to be out of town shortly before they were leaving Seattle. We had a special edition of our needlecrafting circle on a Thursday so that Priya could attend, on the day before they were supposed to leave. Priya wanted to try out lace knitting, and got started on a beautiful pattern. It's no surprise they picked it up immediately, working on it as we chatted. I was surprised and touched that Priya gave us all little notes before they left, giving everyone a hug (or two!) Even me, when I'd practically just met them. I'd dare say that most people would have just said I'd know where to find them online, and after saying goodbye, left. Not Priya. Lots of people will just say that they'd like to meet up again, but never follow up on it. With Priya though, I'm somehow certain they meant it.
Even in the short time I'd known Priya, it was clear they were incredibly smart and talented, but also friendly, far too modest, and genuinely interested in people. It seems overly cruel of the world to have deprived us of Priya. They had the rare ability to touch so many lives, in such a short time. We will miss you, Priya!